crypto strategy
How to Stack More Cheap Bitcoins by Copying Top Traders on PrimeXBT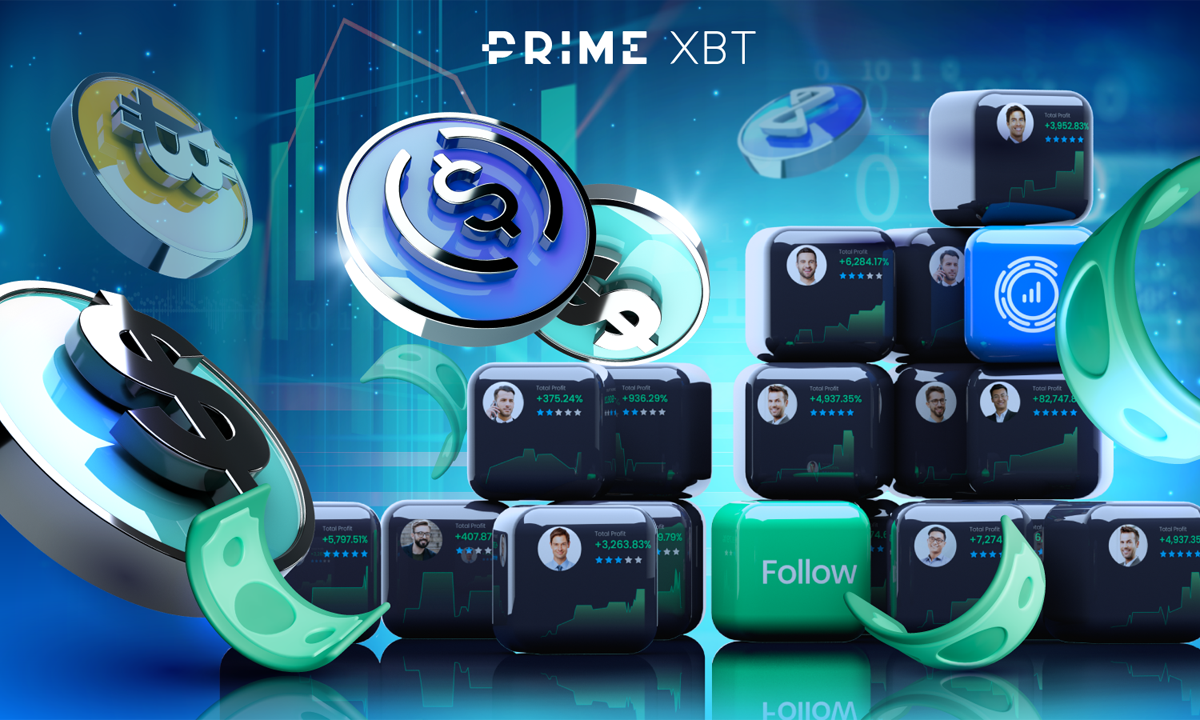 bitcoin price is in a bear market, but the underlying fundamentals of the cryptocurrency continue to grow. Eventually, the extreme bearish sentiment will once again turn into positive bullish price action.
In the meantime, savvy investors and traders view the recent downtrend not as a challenge but as an opportunity to stock up on cheap BTC for when the tides turn.
In addition to buying the crypto drop and trading to increase your capital, copy trading at PrimeXBT can be a great way to pile on more Bitcoin while prices are low.
Smart investors know Bitcoin is on fire
Although the crypto market is dark, it won't be very long. Smart investors know that markets are cyclical, and when prices are at extremes coinciding with sentiment, that's often the turning point.
Fear is a powerful emotion, and only the boldest buy the dip in crypto. More cautious traders trade the volatility bottoming out, taking profits whenever possible to secure gains and maintain capital growth.
Bitcoin price is back to 2017 levels, giving investors a time machine to reap the Bitcoin profits they missed on the way up. Investing $1,000 in Bitcoin when it was priced at $50,000 bought 0.02 BTC, whereas today $1,000 nets you almost three times that amount in BTC. Stacking more BTC with less money is now possible for the first time in years.
Dipping your toes in crypto waters
PrimeXBT is the perfect platform to get back into the cryptocurrency market after the long crypto winter. After creating a free account, it is possible to fund an account using crypto or buy BTC, ETH, USDT, USDC and other popular cryptocurrencies with a debit or credit card. Once the account is funded, the assets can be held long-term in a secure cryptocurrency wallet or used as collateral to trade over 100 different trading instruments.
Use the power of long and short positions with leveragecrypto traders can hedge risk and stay nimble as the market is volatile and new lows are possible.
Core collateral can be traded using stablecoins such as USDT and USDC to avoid the impact of drawdowns on capital levels, then later converted to BTC to boost your stack. Alternatively, you can keep your BTC-denominated trading account to focus solely on building your Bitcoin holdings for the next bull market.
Look beyond buying and trading for returns
These are the most common methods to stack more BTC during the bear market when prices are still so cheap. However, copy trading on PrimeXBT is a passive way to earn Bitcoin by copying top traders on the award-winning trading platform.
A unique competitive differentiator offered at PrimeXBT includes the Covesting copy trading module – where traders can become strategy managers and investors can become followers.
Followers can use the system to automatically copy trades from the strategies they follow. The benefits of copy trading involve allowing others to do the hard work and managing market volatility while remaining exposed to the potential for profit by investing in more skilled or experienced traders.
The top traders on the copy trading rankings show between 1,000 and 4,000% high-end ROI, which anyone can track using cryptocurrency-based guarantees.
How copy trading can increase your stack
Following copy trading accounts denominated in BTC ensures that all income is generated in BTC, building your sats as you passively invest in top ranked traders.
Subscribers have access to a plethora of risk protection tools, allowing them to take advantage of or set stop loss levels and avoid unwanted drops. It is also possible to follow more than one strategy simultaneously, further spreading the risks and opportunities.
PrimeXBT strategy managers are able to trade today's hottest global financial markets, including crypto, commodities, stock indices and forex currencies.
Additional products and services offered in addition Margin of negociation and copy trading include an educational website, weekly trading competitions, performance accounts and an award-winning mobile app.
Increase BTC holdings by following PrimeXBT copy traders
With Bitcoin prices lower than they have been in years, don't panic – follow your path to more BTC by copying PrimeXBT's top traders. The minimum investment level is small and reasonable, but the benefits are huge.
Cryptocurrencies Won't Be So Cheap For Long So Check Out Covesting copy trade at PrimeXBT, and don't miss your chance to build your stack by leveraging the profitability of more skilled traders around the world.
Disclaimer
Third-party hyperlinks and banners do not constitute an endorsement, guarantee, endorsement, guarantee or recommendation by BeInCrypto. Cryptocurrencies are very volatile. Do your own research before using third-party services or taking any financial action.
#Stack #Cheap #Bitcoins #Copying #Top #Traders #PrimeXBT #crypto strategy