Crypto
In Crypto: Ignoring the environmental damage of cryptocurrency is a 'serious mistake'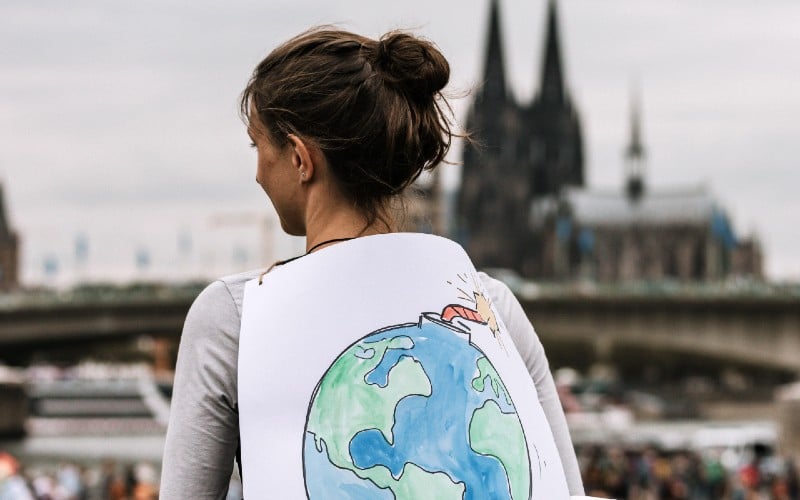 Cryptocurrency
According to a report by Imperial College Business School, cryptocurrency mining must be made less energy intensive to limit the impact on the climate.
Despite the financial benefits of cryptocurrencies, such as their potential to provide a financial system that is immune to bankruptcy or crisis, continued investment in more energy-intensive cryptocurrencies is likely to increase the likelihood of a global climate crisis, according to the 'Damage Limitation: Report on Cryptocurrencies and Climate Change.
The report is authored by Carmine Russo, a visiting fellow at the Center for Climate Finance & Investment at Imperial College Business School, who is also a doctoral candidate at the University of Naples Federico II.
In the report, Russo claims that the main pollution caused by cryptocurrency is generated by its mining procedures. The majority of cryptocurrencies are mined using the Proof-of-Work approach, an energy-intensive process that makes cryptocurrency mining environmentally unsustainable.
The mining process is a "race" among miners in solving complex algorithms through high-performance machines to track the source of money spent, check for double-spending, and unlock new coins.
According to Russo, only the fastest miner who can solve the puzzle gets the rewards, while the rest are just polluters. The more powerful the machines, the more energy they need, which increases the environmental cost.
In 2021, the energy consumption to mine the most popular PoW cryptocurrencies, Bitcoin (BTC) and Ethereum (ETH), was higher than the overall energy consumption of the UK and Italy in 2020.
Russo warns that ignoring the environmental damage created by the mining process would be "a big mistake".
"The question becomes a dubious compromise: are we more afraid of the predictable consequences of a financial crisis or the unpredictable consequences of a climate crisis? said Russo.
"Cryptocurrency has become a popular trend, with an ever-increasing number of users. However, the image of digital currency is far from uniformly positive. Behind the decentralized system of cryptocurrency, there are significant concerns, especially regarding environmental damage.
The report suggests that a shift to more climate-friendly methods for cryptocurrency trading would not only be beneficial but necessary.
The report highlights how the Proof-of-Stake (PoS) mechanism for cryptocurrency mining is a greener alternative due to its design. Russo argues that in a PoS world, since the entire coin supply is immediately available, there are no complex algorithms to solve as there is no need to unlock new coins.
Therefore, powerful computer machines are not required, which makes the process less energy-intensive. Additionally, the stakers – the PoS miners – involved are randomly selected by the system and only those selected can stake, which removes the "race" element, reducing energy waste and making the process more economical. in energy.
Ethereum, for its part, is currently undergoing a "merger" to switch to the PoS mechanism.
Acknowledging the efforts made by a number of countries to regulate the cryptocurrency market, Russo makes a number of recommendations, including requiring cryptocurrency miners to disclose the climate impacts of their activities and advertising practices. more environmentally friendly to promote awareness.
This could help investors in their decision-making process by reducing the information asymmetry between them and the market.
"By doing so, lawmakers may be able to maximize the positive financial role that cryptocurrencies can play in the economic system, while addressing the environmental damage caused by their creation and use," Russo said.
What happens to your crypto when you die?
Metaverse partnership to educate users on crypto security
Ledger, a company that provides security for critical digital assets and Web3, launched its first Metaverse initiative on The Sandbox to support, protect and educate users on all aspects of digital property and cryptocurrency.
Co-created with Metaverse creative agency Swipe Back, the Ledgerverse is an immersive map featuring the "School of Block" that educates users to ensure they are "Metaverse ready."
This includes how to identify scammers' threats and phishing traps they might encounter online through a storyline complete with characters, virtual missions and secrets to uncover.
Users will be able to play games with unique rewards while learning about protection in the metaverse.
An estimated $14 billion was lost to scams in the crypto space in 2021.
Cryptocurrency Shorts
Liz Truss will be named Britain's third female Prime Minister today after winning a majority of votes from Conservative Party members. Truss has spoken about crypto twice in the past. In 2018, she said, "We should welcome cryptocurrencies in a way that doesn't limit their potential. Unleash free enterprise zones by removing regulations that restrict prosperity. During a 2020 debate, the then-Secretary of State for International Trade said, "We also seek to rewrite the game on digital commerce, to create a world-leading ecosystem that supports businesses of all sizes across the UK… We can ensure that customs duties are not imposed on electronic transmissions and create great opportunities in areas such as blockchain.
The Bank of Russia and the country's Ministry of Finance are considering adopting greater use of cryptocurrency as a way to boost international trade during the heavy economic sanctions imposed due to its invasion of Ukraine.
Non-fungible token software company Dust Labs has raised $7 million from Foundation Capital, Solana Ventures, Metaplex, Jump, FTX Ventures, and Chapter One. The company, created by the founders of the DeGods NFT collective, specializes in NFT tools for projects on Solana and Ethereum.
Amid a rise in crypto-related crime, the Australian Federal Police has set up a new cryptocurrency unit to combat money laundering.
Crypto influencer FatManTerra – a vocal critic of Do Kwon, founder of collapsed crypto ecosystem Terra – claims he convinced people to send him $100,000 worth of Bitcoin in two hours with vague tweets about a plan to investment which he later revealed to be fake.
It's far too easy to scam people in crypto.

And that must change.

If you don't understand where the yield comes from, you are the yield.

Listen carefully to critics of any project or investment before getting involved. *Really* listen.

— FatMan (@FatManTerra) September 5, 2022
Cloud hosting managed by eukhost: everything you need to know
Crypto prices
The aggregate market capitalization of over 20,800 coins is $995 billion at the time of writing (7am UK), a 2% increase in the last 24 hours.
Market leader Bitcoin – the original cryptocurrency created by the mysterious Satoshi Nakamoto – rose slightly to $19,800. BTC is down 3% from its price a week ago.
Ethereum, the second most valuable crypto coin – created as a decentralized network for smart contracts on the blockchain – added 6% to around $1,650. ETH is up 4% in a week.
Binance Coin is a cryptocurrency created by popular crypto exchange Binance to help it become the infrastructure service provider for the entire blockchain ecosystem. Its BNB token rose 2% to $281, leaving it down 3% over seven days.
Cardano is an open-source network facilitating dApps that sees itself as an updated version of Ethereum. Its ADA token, designed to allow owners to participate in the operation of the network, added 3% to 51c and is up 12% in a week.
Ripple's XRP token, a payment settlement asset exchange and remittance system, acts as a bridge for transfers between other currencies. XRP rose 2% to 33.5c, with the price up 1% from seven days ago.
Solana is a blockchain designed to make decentralized finance accessible at scale – and capable of processing 50,000 transactions per second. Its SOL token climbed 4% to $32.88, 1% higher than its price a week ago.
Polkadot was founded by the Swiss-based Web3 Foundation as an open-source project to develop a decentralized web. Its DOT token, which aims to securely connect blockchains, added 1% to $7.57 and rose 4% from its price a week ago.
The Meme DOGE coin was created as a satire on the hype surrounding cryptocurrencies, but is now a major player in the space. DOGE climbed 2% to 6.3c and is down 1% over seven days.

Polygon aims to securely connect blockchains as a kind of decentralized internet. Its MATIC token added 1% to 89c, while it was up 8% in a week.
Avalanche is a lightning-fast auditable platform for institutions, businesses, and governments. Its AVAX token climbed 6% to $19.96 and was down 1% in one week.
To see how the valuations of major coins have changed lately – and for a roundup of recent developments in cryptocurrency news – click here.
For valuations of the top 100 coins by market cap in US dollars, plus 24-hour price changes, see below.
.

#Crypto #Ignoring #environmental #damage #cryptocurrency #mistake #Crypto