Crypto
Lindsay Lohan and Other Celebs Settle With SEC Over Crypto Deal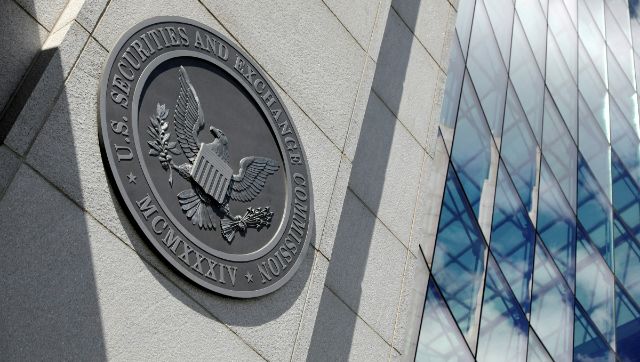 The seal of the United States Securities and Exchange Commission (SEC) is visible at its headquarters in Washington, DC, United States. Reuters file
Los Angeles: Actress Lindsay Lohan, rapper Akon and several other celebrities have agreed to pay tens of thousands of dollars to settle allegations that they promoted crypto investments to their millions of social media followers without revealing they were paid to do it.
Lohan, Akon, recording artists Ne-Yo and Lil Yachty, boxer and internet personality Jake Paul and adult film performer Michele Mason have all agreed to pay more than $400,000 combined in refunds, interest and penalties for settling claims, the Securities and Exchange Commission announced Wednesday.
None admitted or denied the SEC's findings in the settlement. Two other celebrities named in the SEC complaint, rapper Soulja Boy and pop singer Austin Mahone, have not reached a settlement with the SEC, the agency said.
In response to a request for comment, Lohan's publicist Leslie Sloane said the actress was contacted in March 2022, was unaware of the disclosure requirement and agreed to pay a fine to resolve the problem. Lohan, who announced last week that she was pregnant, was told to forfeit the $10,000 she was paid, plus interest, and pay a $30,000 fine, according to an SEC complaint.
A spokeswoman for Paul declined to comment. Emails left with representatives of the other celebrities named in the SEC complaint were not immediately returned Wednesday.
In the SEC's lawsuit filed in federal court in New York, the agency claims the celebrities were paid to promote Tronix (TRX) and BitTorrent (BTT), two crypto asset securities offered for sale by three companies owned by Justin Sun, a Chinese national. Sun is Grenada's permanent representative to the World Trade Organization and may live in Singapore or Hong Kong, according to the complaint.
Beginning around August 2017, Sun allegedly offered to sell billions of unregistered securities and engaged in manipulative trading, while creating secondary markets on which Tronix and BitTorrent could be traded, according to the complaint.
"Although the celebrities were paid to promote TRX and BTT, their social media touts did not disclose that they were paid or the amount of their payments," according to the complaint. "Thus, the public was misled into believing that these celebrities had an unbiased interest in TRX and BTT, and were not merely paid spokespersons."
Many celebrities and athletes have used their influence and large social media followings to promote cryptocurrencies in recent years, including Matt Damon, Tom Brady, and Reese Witherspoon. But doing so without disclosing when they are paid to do so is illegal and has gotten some big names in hot water with securities regulators. Last fall, Kim Kardashian agreed to pay a $1 million fine to settle federal charges that she had recommended Ethereum Max tokens, a cryptographic security, to her millions of Instagram followers without specifying that she was paid to do it.
In 2020, actor Steven Seagal agreed to pay more than $300,000 in a similar settlement with the SEC, which also banned him from promoting investments for three years.
Read all Latest news, New trends, Cricket News, bollywood news,
India News And Entertainment News here. follow us on Facebook, Twitter And instagram.


#Lindsay #Lohan #Celebs #Settle #SEC #Crypto #Deal #crypto