Credit unions know the value of data. Leaders of these people-centric organizations often examine the latest consumer preferences and learn how to tailor products and services to better serve members.
Research can tell us a lot about how to approach consumers – what their needs are, how they make decisions, or what behaviors are changing. However, an important perspective that is often overlooked in research is that of the human stories that make up the data. We can pull numbers from the page, but often we don't see the voices and experiences behind them. And, many groups have long been completely ignored in large-scale reporting.
I would argue that to make meaningful change for those we serve and serve underrepresented populations, we need to look at both the data and the human stories behind the numbers. When it comes to a successful multicultural business strategy for credit unions, there are no shortcuts. We must engage in the intentional and genuine work of understanding these growing populations that we wish to serve.
We gained insight into this human-centric approach to data during the process of developing this year's What Matters Now research report. This report is the fifth in our extensive research series for credit unions, but this year's report is unique in many ways.
A new, more holistic look at consumers
For the first time, we've included data on Native American, Alaska Native, and Native American consumers — growing populations that are often overlooked. We've also included data on multiracial consumers, as well as a new generational group, Generation Z. This is not just new to us, but new to research in the field in general. Until now, these groups have been overlooked and excluded from much research.
Adding data for these groups is one thing, but doing it in a way that highlights the voices of these consumers and honors their experiences is also key to success.
We learned three key things in the process.
Methodology matters. We used both qualitative and quantitative research to fully capture the information shared. We have worked to understand and provide psychological safety so that our participants can fully tell their stories.
Credit unions want inclusive data. Credit unions want to serve more consumers and are asking for this kind of information. As a movement, we seek the best ways to serve multiracial, Native American, and LGBTQ communities, and we crave information like this.
It is important to be intentional. We made it clear that we wanted to ensure that populations that had not been represented in previous research were included here. This meant that we had to adjust our process and timeline, but we did not lose sight of this intentional direction.
Why is the process important?
In developing this report, as in any multicultural business strategy, both process and results are important. If we don't take the time to fully listen and appreciate the experiences that make up the report, we won't fully understand the data.
With multicultural consumers being a growing force and as Gen Z and Millennials continue to change life stages, credit unions need to understand all parts of their identity and serve them with intention. It is not enough to know what; we also need to know why if we want to make real changes to help more members. To achieve this result, the process counts.
key ideas
From product preferences and ownership, to financial habits, to consumer concerns, hopes and dreams, this report contains information to help our industry better serve all consumers and live our founding purpose of helping others.
Here are some of the key findings:
Popularity of cryptocurrencies: Twenty-seven percent of multiracial consumers, 22% of black consumers, and 30% of millennials own cryptocurrency. Continuing to follow crypto and advising members will be increasingly important.
Online presence: Black, multiracial, and millennial consumers are more likely to verify a financial institution's online presence before doing business with it.
Daily check-ins: In addition to verifying their online presence before becoming customers, 43% of consumers now report checking their financial accounts daily, and these numbers are even higher for many multicultural groups, Millennials and Gen Z.
Reliability: Multiracial and Gen Z consumers tend to trust their primary financial institution (PFI) less. In fact, less than half of Gen Z consumers said they trust their PFI, compared to 75% of baby boomers.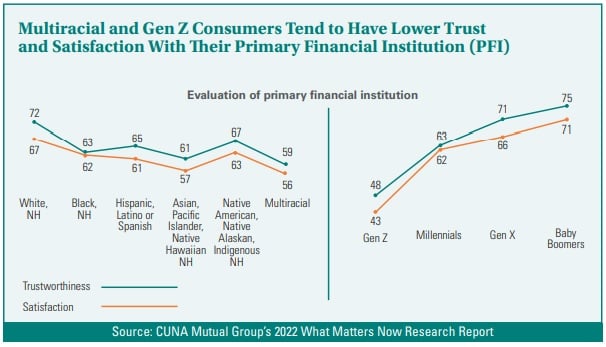 To read the full report and analysis of these results, visit our website. From intentional process to specific insights, we hope this research sheds light on the experiences and voices of multicultural consumers and provides meaningful data to guide your multicultural business strategy.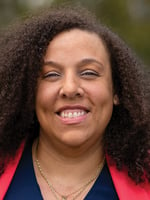 Opal Tomashevska Director of Multicultural Business Strategy CUNA Mutual Group Madison, Wis.